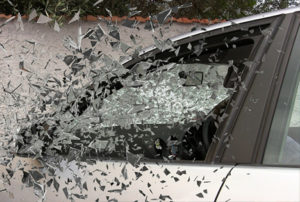 Recently, on one of our warmer afternoons, my husband and I decided to stop at a grocery store in Woodbury for something different to have for supper. We found some nice steaks and a gourmet cheese that we had an opportunity to try and decided to take some home. We walked out the exit onto the sidewalk at the exact moment to see a silver 4-door car backing out of their stall towards the back-end of our parked truck. Just as they say, it all happened in slow motion as the vehicle moved out of the parking space, and kept backing up – right into the back of our truck. We heard a bit of a crunch, and then saw tail light plastic fly onto the pavement.
The older gentlemen put his car in drive and started to pull away as we yelled for him to stop. He did and opened his car door, we asked him if he was okay and if he needed any medical attention. He said that he was fine and wanted to just leave since he didn't see any damage. Well we certainly saw damage so we asked him to please stay in his vehicle while we called the police to file a report.
The Woodbury police did come and file a report. The officer informed the other driver that indeed there was damage to our vehicle. We got a copy of the report that had the driver's and insurance company information. The gentleman then said that the accident was his fault. We figured that didn't matter since Minnesota is a no-fault state. Neither of us has had an accident for at least 10 years, so we both assumed that we were doing the right things. We were both wrong.
We called our insurance agent who told us that no-fault only applies to personal injury insurance which is required by every driver. However it does not apply to collision insurance.
Generally, a police report is not necessary when there are no injuries and no crime. The two parties can exchange their information and contact their insurance agents. However in this case it was necessary to have the police report since we were not actually in the vehicle at the time of the accident, and to back up our version of the story.
You probably do like we do, and don't really give your insurance much thought, until you are forced to think about it. However, do yourself a favor and shop around every year or so and make sure you are still getting the best bang for your buck. You could easily be paying a couple of hundred dollars a year that you don't need to be paying.
When you comparison shop, you may find it easier to check some online offers. Keep in mind that this is a common misconception because most of these online quote websites receive commissions from companies to show you their quotes and often don't even show you the other offers.
To make sure you are getting the very best fit for your particular car insurance needs, call Lindeman Insurance. As an independent insurance agency they will give you the best quotes and personalized service.